YAReG - Yet Another R(eiser)FStool GUI
---
Browse your ReiserFS partitions on any of your computer's harddisk drives as if they were regular Windows partitions


Simply drag and drop files or directories from your ReiserFS partitions to the Windows Explorer or any other application (or use the context menu for faster transfer of huge files)


That's it. Isn't it enough? Ah, one more: It's free to download and use! :-)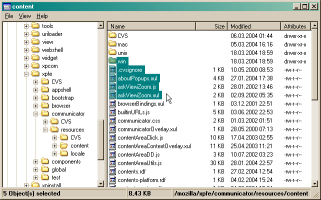 (click to enlarge)
This is the YAReG application window. On the left you can browse your ReiserFS partitions as a tree. On the right the contents of the selected directory are listed. This is where you can drag files and folders from to the Windows Explorer or other applications.

YAReG's usage should be self-explanatory to anybody able to create a ReiserFS partition.
However, there are certain things you should know:
Requirements:
Important notes:
For huge amounts of data (more than maybe 10 or 50 megabytes) it is recommended to NOT use the drag&drop functionality, but to use the context menu of selected files/folders instead. While not being as handy this improves the overall performance dramatically, for the reasons described below.
When you start a drag-and-drop action, the files will be copied from the Linux partition to the temp directory instantly (not only when you release the mouse button!).

If you

selected large or many

(e.g. within dragged directories)

files

this will of course

take some time

. During this time the mouse pointer will not look like you are dragging something, but it will nevertheless work (you can release the button over your desired drop target).
Starting with YAReG 1.0 the files are not copied, but moved from the temporary to the target directory. This speeds up data transfer a lot of both of them are on the same partition (speed is the same as using the context menu for copying). So if you only work on one partition anyway, both methods to transfer files are equally fast.

Known problems:
YAReG, as it exists right now, has been programmed on one day and then rewritten from scratch on another day (ok, and extended on 1-2 other days). Still, the functionality it provides is comparable or superior to other GUIs for rfstool. (This is why I am providing it to the public.) But of course there might be shortcomings and problems.
This is a good place to mention that you are using YAReG
on your own risk
! It comes with
ABSOLUTELY NO WARRANTY
and I am not responsible for any problems or dataloss the usage of YAReG might cause. That said, the only place it is writing to is its temporary folder and the target for the files to transfer. ReiserFS partitions are only read from (rfstool only provides read access).
You cannot copy files from ReiserFS partitions if the file names contain special characters that are not allowed in Windows file names (like <>:?*"|\/)

The "History & Future" paragraph below lists all important bugs in previous versions that are now fixed, so you can check if an update cures a problem you might have noticed. If the problem you found is neither listed there, nor in the above list of known problems, please let me know! It is recommended to regularly check back for newer versions with all the lates fixes and improvements.




Please read the README! part before downloading to avoid regretting anything!



YAReG Download:


You do not need to install YAReG, just run

YAReG.exe

after unzipping the download (e.g. using WinZip).

If you cannot start YAReG make sure

rfstool.exe

is in the same directory and you have the Microsoft .NET framework installed (either version 1.1 or 2.0).




Donate:



If you think YAReG is helpful and you want to support or thank for its development, you can now donate using PayPal.
When people approach me about donations, I usually refer them to charity organizations. Those need the money more urgently than me, so I do not really want to change this now.
But some people prefer rewarding the person who actually did the job. And if those people have a Paypal account they can do so now. :-)


Old downloads:





Source download:



YAReG-1.0-source.zip (40 kB) - the complete Visual Studio 2003 project
If you do any modifications to YAReG and plan to publish them, I ask you to contact me, so both development branches benefit from each other.
I will strictly prosecute any GPL violations (e.g. if YAReG code is used within other software that is not GPL-licensed). Please contact me if you encounter any application that reminds you suspiciously of YAReG.


YAReG is © 2004-2010 by Andreas Kunz.

YAReG 1.0 and later:
YAReG is GPL-licensed: redistribution and/or modification is permitted under the terms of the GNU General Public License (http://www.gnu.org/copyleft/gpl.html) as published by the Free Software Foundation; either version 2 of the License, or (at your option) any later version.
YAReG comes with ABSOLUTELY NO WARRANTY and I am not responsible for any dataloss or damage to your system or files.

YAReG 0.9.10 and earlier:
YAReG is Freeware: free distribution of the YAReG binaries is permitted.
YAReG comes with ABSOLUTELY NO WARRANTY and I am not responsible for any dataloss or damage to your system or files.





YAReG 1.0 (

March 7th, 2006):

Feature: enable sorting by column in the right-hand view
Feature: make the splitter between the views functional
Feature: make "Backspace" navigate one level up
Enhancement: show date/time Explorer-like
Enhancement: do not copy, but move files when doing drag&drop
Change: internal cleanup
Change: use the GPL license for publishing YAReG




YAReG 0.9.10 (

March 4th, 2006):

Improved: While files/folders are being transferred from the ReiserFS partition to the temporary directory their names are displayed in the status bar (this is what happens before Windows-drag&drop starts). If you drag folders, only the folder name is displayed, not the name of all the files contained within the folder.
Improved: You can double the speed of data transfer right-clicking on the selected files/folders in the right-hand part of the window: After selecting "Copy to..." you can select the folder where to put the data.
This way no temporary directory is involved and all data is only copied once, making this way to transfer files twice as fast as the original (drag&drop). Once you copy more than 10-50 megabytes this way to copy files is recommended because the speed difference gets remarkable.
Improved: You can now (optionally) configure which temporary directory YAReG should use in the YAReG.exe.config file now also delivered along with YAReG (its name must start with YAReG's name, it must be placed next to YAReG). If you do not enter anything in this file, YAReG proceeds as before: it first looks for the environment variable TEMP and if that does not exist, it uses its own directory to create the temporary directory.
Improved: In the "About" dialog ("Help" menu) the temporary directory used is displayed as well as the version of the .NET framework that is used.
YAReG 0.9.9 (

May 4th, 2004):

Fixed:

crash

/exception on startup if "rfstool autodetect" returns an error amongst valid data.
Improved: Some more error checking, especially when calling rfstool.
YAReG 0.9.8

(May 1st, 2004):

Fixed: crash/exception upon entering a directory with space(s) in its name
Fixed: bug that prevents dragging objects with spaces in their name.
YAReG 0.9.7 (

April 17th, 2004):


YAReG has been rewritten completely; improvements include:

no lag when entering directories for the first time
both panes fully navigatible

drag and drop multiple files at once
different view modes for right pane
more Windows-Explorer-like look-and-feel
YAReG 0.9.1 (

March 31th, 2004):


Now creates (and removes) its own temp directory.
YAReG 0.9.1 (

March 7th, 2004):


YAReG was programmed that day for personal use as an programming exercise (posthumously labelled version 0.9.0). It worked fine for me as it was...
Future:

what I might do (apart from bugfixing) when I have the time to improve YAReG

more informations about files/partitions
also include ext2/ext3 (or maybe other) partition support to provide an unified GUI for all the popular Linux file systems
provide an interface for plugins for access to other file systems



November 7th, 2010:

Using YaREG for rescuing data


Recently I got e-mails suggesting that people use YaREG for rescuing data from somehow not working hard drives. Actually, this use-case was not envisioned initially...
These cases seem to be about standalone storage solutions and/or NAS systems ("network-attached storage") where the system as such has ceased to function properly, but the hard drive itself was undamaged. As such systems require a network stack on their own it is logical that many use a kind of Linux and some of those use the ReiserFS file system. So if you can successfully attach such a ReiserFS-formatted hard drive to your computer chances are that you can use YaREG to copy over the data to your Windows partition. Of course this does not work once the hard drive is physically damaged - there are commercial services to rescue valuable data in this case.
An alternative to YaREG would be using a Linux Boot CD (like e.g. Knoppix) to boot your computer from. Those do not modify your hard disk but you can access your Windows partitions and most probably also any ReiserFS partitions. Good luck!
...and: if YaREG helps you rescuing valuable data it would be fair to donate... ;-)

August 18th, 2008:

New webspace provider for YAReG


The last time YAReG moved (to yareg.akucom.de) was the day when the Olympic Summer Games in Athens were beginning. Funnily there are again Olympic Summer Games ongoing now, this time in Beijing (they admittedly have already started a couple of days ago). And again (or still?) YAReG is the first hit when people google for "read reiserfs windows". And there are still a lot of downloads (11,000 in 2008 so far).
However, visitors of this page should not notice any change because the URL/domain has remained the same.
But if you experience any problems, in particular when trying to download, please let me know!

October 22th, 2006: More than 53000 downloads of YAReG


As of now, YAReG has been downloaded more than 53000 times, with a rate of about 105 downloads per day through the last month. YAReG 1.0 only came out half a year ago, but already has a pretty good share of the downloads (about 21000). The YAReG source code have been downloaded more than 400 times (but I do not know of any patches done by someone else yet).
Thanks for your interest in YAReG! It feels good to know one has built something that is useful for other people as well.

March 7th, 2006:

YAReG 1.0 released


Today, exactly two years after YAReG's birth, YAReG 1.0 was released. See the history for a list of fixes. Most notably, the speed of drag&drop actions when the target and the temporary directory are on the same partition was dramatically increased (as fast as the context menu "Copy to..." method) and the files can now be sorted.
Furthermore, YAReG is now licensed under the terms of the GPL, which does not change anything for the average user, but means e.g. that you can now also freely obtain the source code.

March 4th, 2006:

YAReG 0.9.10 released


See the history for a list of fixes. All most frequently requested improvements have been implemented: an option to transfer files MUCH faster (actually twice as fast), some progress feedback while files are being transferred and the option to configure a custom temporary directory.
Again, go to the history section to read details about these improvements in the first YAReG release after a long time, almost exactly two years after YAReG was initially created.
By the way: YAReG has been downloaded more than 32000 times by now... :-) Those idiots who sometimes download YAReG 20000 times within two hours are automatically filtered out, only unique downloads are counted.

March 03rd, 2006: YAReG is compatible with the new Microsoft .NET framework version 2.0


Several weeks ago Microsoft introduced the new version 2.0 of their .NET framework. I did some testing with YAReG 0.9.9 and apparently it runs perfectly fine with it. So it does not matter whether you have installed .NET 1.1 or 2.0. If both framework versions are installed, it also does not hurt: YAReG will the run using the 1.1 framework.

August 09th, 2005: YAReG 0.9.9 included on the CD of the german magazine "PC-Welt"


The September edition of the german computer magazine

PC-Welt

includes YAReG 0.9.9 on its CD-ROM -- my voucher copy arrived today. They also put rfstool 0.14 on the CD so all you have to do is copy over rfstool.exe to the directory where you extracted YAReG in order to easily access your reiserFS partitions (assuming you have the Microsoft .NET framework installed).

August 06th, 2005: YAReG mentioned in german computer magazine "c't"


Edition 17/2005 of the well-reputed german computer magazine

c't

mentions rfstool (on page 188) and adds: "Whoever considers using the command line being too bothersome, may use one of the graphical frontends, e.g. Yareg, which allows for easy drag & drop to the Windows Explorer." A nice eye-catching screenshot is also included. There is a "soft-link" to YAReG mentioned which is located at http://www.heise.de/ct/05/17/links/188.shtml.
[Addition:] Due to a drop in Google's ranking, YAReG only had about 40 downloads per day during the past one or two weeks. This c't link, however, led to a huge increase in download numbers, reaching

record-breaking 133 downloads

on August, 9th!


May 18th, 2005:

I'm still here...


I know there were no actions on my side during the last months. This was not caused by a lack of interest in YAReG but rather by 1.) lack of time due to my diploma thesis and 2.) lack of urgent need for further development because YAReG seems to work well enough for everybody -- at least only minor problems have been reported to me.
YOU, on the other hand, were quite restless: by now, YAReG has been downloaded more than 14,000 times!! (currently 50-80 downloads per day, rate is increasing) Thank you! And thanks for the encouraging mails!
Today, I touched the YAReG code base for the first time in months, nothing special, just preparations for releasing YAReG as open source software. This may or may not happen soon. Whenever it happens, it is likely to be combined with some improvements to the application. Improving the transfer of huge amounts of data is my top priority in this respect because it was the only real complaint I heard of.

August 13th, 2004:

New web domain for YAReG


Today not only the Olympic Games in Athens were opened, but also the new home of YAReG: http://yareg.akucom.de. I created this new place because my web space at the university is going to expire and I want to have enough time for a smooth transition: after more than 3333 YAReG downloads and being Google's first link when asked for "read reiserfs windows" (at least currently) I cannot just move to a different page without telling anyone...

May 4th, 2004:

YAReG 0.9.9 released


See the history for a list of fixes.

May 1st, 2004:

YAReG 0.9.8 released


See the history for a list of fixes.

April 17th, 2004:

YAReG 0.9.7 released


YAReG was completely rewritten, see the history for details.

March 31th, 2004:

YAReG 0.9.1 released


See the history for a list of fixes.

March 23th, 2004: Web site created


I thought the world might find YAReG useful. So there is a web site now.

March 7th, 2004: YAReG was born


YAReG was first created that day.
---
YAReG is © 2004-2010 by Andreas Kunz. Please contact
yareg@yareg.akucom.de
if you have any comments or bug reports. Usually I answer every mail; if you do not receive an answer my spam filter may have eaten your mail... just try to resend after a while.
For terms and conditions of using this web site read the
disclaimer
.
Impressum